You are hereCOMPROD Mobile VHF Antennas 2 Dbi Gain Available Truck Mounts for Ford GM Dodge
COMPROD Mobile VHF Antennas 2 Dbi Gain Available Truck Mounts for Ford GM Dodge
---

COMPROD 577 SERIES VHF MOBILE ANTENNAS
Timberline Radio Systems Introduces the Comprod 577 Series
Antenna Product Line. Considered the Pioneer of Radio Antennas, Comprod Communications has been manufacturing antennas nearly, since the invention of radio. Their product lines include Mobile Antennas, Folded Dipoles, Verticals and Cross-Polarity as well as a wide selection of duplexers and multiplexers. Comprod meets and exceeds the worlds finest RF standards.
Performance: This broadband 1/2-wave antenna provides 2.0 dB of gain over its operating bandwidth. No ground plane antenna. The NMO Antenna Base Fits all makes and models of vehicles including Ford, GM and Dodge.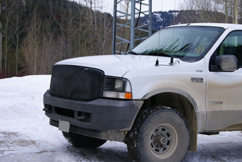 Stylish and durable: The antennas are manufactured using the finest corrosion-resistant materials and finishes available. The base is triple-plated chrome brass with a large-insert molded low-loss coil form and a spring-loaded, gold-plated contact.
 Weatherproof: O-ring seals and overlap construction keep moisture out of the antenna.
 Standard Mounting: All base loaded antennas mate with the standard TAD / NMO type mount.
Western Canada Distributor for COMPROD Communications
Timberline Radio Systems Ltd. +1 604-290-3915
SPECS 136-174 MHz 
VHF WIDEBAND / 2dB
Electrical Specifications 
Frequency Range, MHz
136-174
Gain, dB
 
2.0
Impedance, Ohms
50
Power Rating, Watts
75
Bandwidth / VSWR
11 MHz @ VHF / 1.5:1
19 MHz @ VHF / 2.0:1
 
 
 
 
 
 
Mechanical Specifications
Radiator
 
17-7 PH S.S.
Base
 
ABS, spring loaded contact
Length, in
 
52 maximum
Mounting
 
Standard Motorola type, 3/4
 
 
 
 
 
 
Ordering Information
 
Description
136-174 MHz
Antenna Brite finish
577-75
With shock spring
577-75S