You are hereICOM Radio IC-F3001 / 4001 VHF / UHF Handheld 16 Channel Two Way Radio
ICOM Radio IC-F3001 / 4001 VHF / UHF Handheld 16 Channel Two Way Radio
---
Timberline Radio Systems is pleased to present ICOM's economically priced, water resistant, handheld Two Way Radio IC-F3001/IC-F4001
This version comes in either VHF or UHF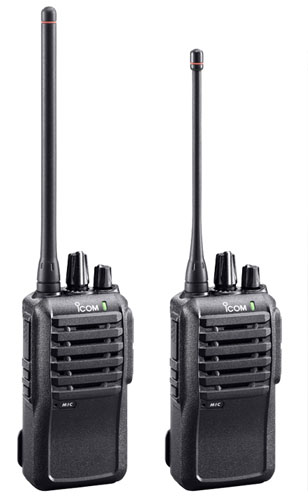 and is specially built for use in damp environments. This is a 100% water resistant radio that is built to military standards, without compromise.
Simple operation for instant communication
The IC-F3001 series is so easy to use there's no special training required. The few knobs and buttons are generously sized for easy operation and are designed to provide non-slip, positive action – even while wearing gloves. Perfect for Forestry-Easy to hear in noisy areas
The built-in bridge-tied load (BTL) amplifier offers powerful 800mW* audio output from the large 45mm speaker.
The ICOM 3001 / 4001 delivers loud and intelligible audio even in noisy environments.
Business to Business Commercial Sales Only