You are hereSupplier for Logging Mining & Resource Radios
Supplier for Logging Mining & Resource Radios
---
Two Way Radios for Logging Road and Industrial Road Users
Timberline Radio Systems Ltd. began as a supplier of Two Way Radio Communications to the Mining, Drilling and Logging industry in British Columbia, Canada.
Twelve years later we continue serving the Loggers and Miners that built this great country. We'll never forget all the great guys who we've worked with over the years and will continue to work with for many years to come! Stay Safe while traveling Canadian Forest Service Roads.
Use your Radio
We sell Two Way Radios and Safety Radios for logging resource roads throughout BC the Yukon and Canada and also provide onsite installation, service and maintenance.
We believe in listening and working with our customers and helping them find the solutions that fit their needs.
We'de like to hear from you today so give us a shout !
Built Tough for Working in Rough Environments

Timberline Radio Systems is proud to present ICOM's Next Generation VHF and UHF Land Mobile Radios. Replacing the F-5021, ICOM introduces the F5023H and F6023H; two of ICOM's Top Notch Land Mobile Rigs yet! With a Robust Front End Receiver and "Tough as Nails" Transmitter, this Mobile Fixed in will go anywhere and do anything you need it to! Complete with all the bells and whistles, this Military Grade Mobile is cost efficient and reliable today, as it will be in ten years. ICOM Built it to last and we've put it through the test in some of the most rugged conditions yet! Count on your Safety Equipment - Count on Quality Two Way Radios.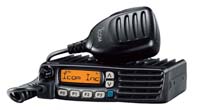 Built for use in the Commercial Environment, this radio is used by Fire Departments, Forestry Workers and the Forest Service, Logging Operators, Highway Departments, Miners, and Oil & Gas Companies throughout North America.
Main Features Include
128 memory channels (max) separated into 8 memory zones
Built-in 2-tone, 5-tone, CTCSS and DTCS capabilities Kill/stun functions disable a lost or stolen radio over the air
6 programmable buttons allow customized operation
Rugged construction, meets MIL 810F standard
50W output power VHF, 45W output power UHF
Powerful, front-mounted speaker with 4W audio output
Call for Company Discount Pricing