You are herePortable Marine VHF Repeaters with UHF Uplink Marine to Land Mobile Radio
Portable Marine VHF Repeaters with UHF Uplink Marine to Land Mobile Radio
---
VHF Marine Repeaters Provide Coverage on Marine Repeater Channels as well as Crossband coverage for Land Mobiles and Land Based Stations
Designed for use Offshore operation, for instance, in the South Pacific, South East Asia, Central America and South America, where the need for access to Marine Repeaters as well as linked Marine to Land services are critical
for effective safety communications.
We build two different designs to suit your needs; Transportable or Fixed Station
VHF Marine Repeaters help to increase the distance that Standard VHF Marine services can communicate through pre-programed repeater channels that come standard with all Marine VHF radios. These channels include International channels 78, 79, 80, 81, 82 and 83.
Through the use of Marine Repeater Channels, a weak station would be amplified through the repeater and the signal re-transmitted to other stations on the same repeater channel. Additionally, through the built-in UHF linking, the signal could be accessed by Land Mobile Users or alternatively, connected to the local Landline Phone System enabling Marine mobiles access to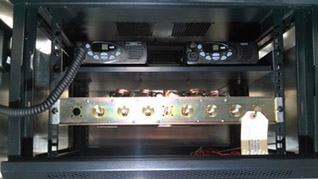 the local Telephone network.
VHF Marine Repeaters are built on the highly configurable TAIT platform, using the TM-8000 series transceivers in modular form, that includes cross-connect modules, and a built-in VHF Duplexer utilizing a full 25 WATTS of output power.
Fully Portable Systems built into a Pelican Case, or alternatively, a fixed station system, built inside a Communications Shelter; powered from Solar or Conventional A/C.