You are hereTwo Way Radio Systems for Mining & Tunnels
Two Way Radio Systems for Mining & Tunnels
---
Communications Supplier to the Mining Industry
We supply Underground Radio Repeaters, Leaky Feeder and Intrinsically safe, MSHA & FM approved, Radio Communications for Underground Mining & Petroleum.
We take pride in serving our customers and look forward to new opportunities that build on relationships with Mining, Drilling, Oil and Gas exploration in British Columbia, the Yukon and around the World. We believe in listening and working with our customers by helping them find the right solution that fits their needs. We have the solution for safe, underground two way radio and leaky feeder RF & Data communications.
Count on Quality Two Way Radios.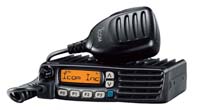 Built for use in the Commercial Environment, ICOM radios are used by Fire Departments, Forestry Workers and the Forest Service, Logging Operators, Highway Departments, Miners, and Oil & Gas Companies throughout North America.
Main Features Include
128 memory channels (max) separated into 8 memory zones
Built-in 2-tone, 5-tone, CTCSS and DTCS capabilities
Kill/stun functions disable a lost or stolen radio over the air
6 programmable buttons allow customized operation
Rugged construction, meets MIL 810F standard
50W output power VHF, 45W output power UHF
Powerful, front-mounted speaker with 4W audio output Lone worker function requires a response from the operator Scanning setting is dependent on operating channel Compatible with IC-F3021/F4021 series handheld radios MDC 1200 compatible with the following built-in features PTT ID (TX/RX) Radio check (RX)
Call for Company Discount Pricing