You are hereLow Power TV & FM Radio Broadcast Stations
Low Power TV & FM Radio Broadcast Stations
---
Low Power Television & Radio Broadcast & Re-broadcast Stations exist in many rural communities across British Columbia and North America in areas that are too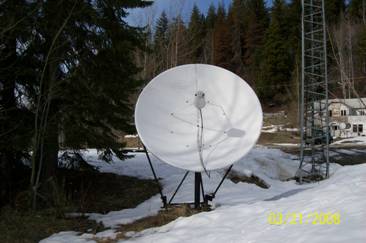 far away to receive a conventional TV signal over the air or through a cable system.
TV Re-Broadcast stations consist of a series of Satellite Receivers, Modulators and Low Power Television Transmitters that re-broadcast the received satellite signal, back over the air, through an antenna tower, on the corresponding TV / Radio Channel for local reception.
Timberline Radio Systems maintains a number of TV & FM Radio Repeaters throughout British Columbia and is currently in the stage of converting many from Analog to Digital for better quality reception and distance.
We currently maintain sites on Vancouver Island, as well as the Chilcotin Region, the Caribou and the Interior of British Columbia. Here are some photographs of the actual stations; they include "C band" multi LNB satellite Dishes, Receivers, Modulators and Low Power TV Transmitters. In addition to TV, many carry the FM audio from various radio stations through means of satellite audio rebroadcast.