You are hereVHF Two Way Radio & Radio Repeaters
VHF Two Way Radio & Radio Repeaters
---
At Timberline Radio Systems Ltd., we supply Industrial Mobile Two Way Radio, VHF & UHF Radio Repeaters, Satellite Phones, Satellite Internet, Microwave and Industrial Communications throughout Canada, Northern Canada, USA and Internationally. No matter where your operations are based, we're available by Land, Sea or Air and travel onsite throughout Canada and Internationally. Specializing in Remote Work Camps.

With a wide variety of Two Way Radio Systems available, we support conventional VHF & UHF as well as LTR & NXDN; an emerging standard for Digital Two Way Radio.
Timberline Radio Systems Ltd. has been in the business of building, designing and engineering Radio Repeaters for many years. We supply commercial grade, fixed station Solar Powered Repeaters for VHF Land Mobile, VHF Marine & Aviation. Our repeaters are designed especially for low power consumption where they can mounted at fixed mountain-top sites.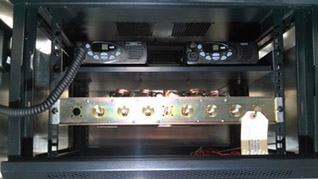 A great product for Mining, Marine, Aviation, Oil & Gas Exploration where portable, reliable, long range communications is key.
We Service what we sell. With a wide array of clients including Industrial Operations, Forestry, Highway Departments, Mining, Hydro Electric, Logging, Transportation, Drilling, Oil & Gas to name only a few...
We also Distribute Telcosat Cellular Boosters/Amplifiers built for use on the fringe of the Cellular Networks.
On jobs that are tough to tackle, especially in remote camps, we're equipped with the latest in transportation, communications and safety gear.
Whether you're situated on a remote mountaintop, mine site, remote camp or Industrial plant, we provide you with good'old fashioned service.